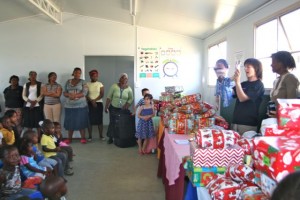 On Friday we hosted our yearly Christmas Party at Zusakhe Edu Care Creche, Du Noon. To the sound of Boney M singing, "Joy to the World", we packed out over 170 presents for all the children of Zusakhe, Teachers, Staff, Zusakhe Youth Group and Home Base Care workers.
We were all wonderfully entertained by both a puppet show telling the story of the birth of Christ and the children who sang some of the songs they'd learned during the year.
After so much singing and laughing they were ready for lunch and really enjoyed the Spur Burgers and viennas & rolls. This was washed down with juice for all, followed by a delicious ice cream. Volunteers handed out gifts to everyone and the Zusakhe Youth Group started playing the drums and singing. It was beautiful!
It was a happy fun filled special day for all the children and staff of Zusakhe. Huge thank you to Life Changers Church, Spur Table View, Dairy Exchange, Active Displays, Foo Foo Club, Johnson & Johnson, Woolworths Marketing and a few unnamed heroes from the Table View community, who supported and contributed in making this a wonderful day.