Inkwenkwezi visits Elkanah to share & learn about recycling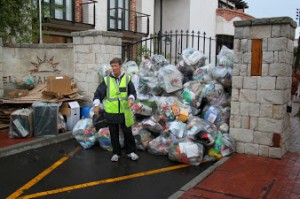 A group of 10 Representative Committee Learner members from Inkwenkwezi Secondary School Dunoon; the caretaker, Frank; two teacher's, Seti and Mrs Mphunga and the Principle Mr Kutu, visited Elkanah High on Wednesday 19th March 2014. On this exciting day we hoped that two very diverse schools would learn and share their own experiences about their respective recycling projects.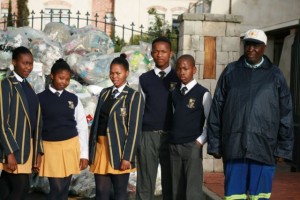 The morning started with the hustle & bustle of learners arriving at Elkanah carrying bags of recycling. The bags were then counted by volunteers and reward stickers were handed out. Elkanah High is a great example, that with innovative and appropriate initiatives, high school students can be encouraged to bring recycling and participate in a worthy environmental project.
By about 8.15am the action started to fizzle out and the last of the community members dropped their recycling.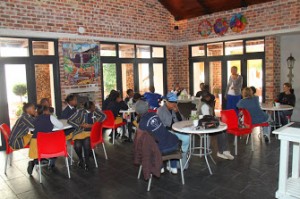 Our group was then led into the school cafeteria where over a croissant and coffee we listened to a few speakers. The Recycle Committee shared their projects successes and Debi Schuiling encouraged the RLC to go back to Inkwenkwezi, be the difference and be a voice for the recycling project in the school. We were so encourage by all the excellent work that is being done by the Recycling Committee at Elkanah. Maria, from the Recycle Swop Shop, explained the processes around the recycling project at Inkwenkwezi and what is offered in the swop shop.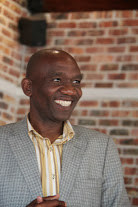 Lastly both the Head of RLC and the Principle, Mr Kutu, thanked everyone for a wonderful morning and spoke about the Recycle Swop Shop project and how they were committed to see the project continue to be a success.
Thank you all for a great morning and a special thank you to Elkanah for the goodie bags and for hosting this wonderful event.